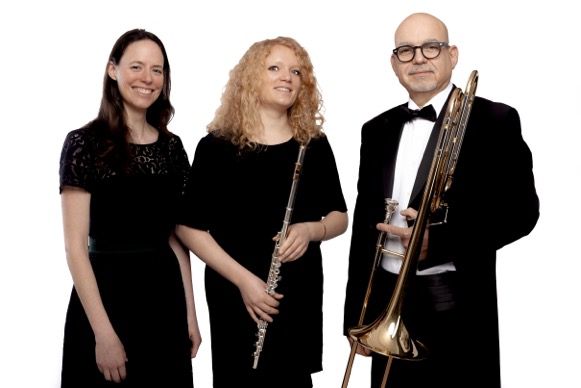 Ensemble A3 is made up of flautist Fanny Fauconnier, pianist Laurence Falisse and trombonist Alain Pire.
A flute, a piano ... and also a trombone? Yes, this somewhat incongruous training results from a common desire to open up with passion to other worlds.
Thanks to this particular instrumental combination, the A3 ensemble does not hesitate to revisit, arrange and propose new sound textures, suggesting with originality the clarity of Claude Debussy, the tenderness of Gabriel Fauré, the intoxication of Robert Schumann, the passion of Leonardo Bernstein, the popular expressionism of Kurt Weill, the eccentricity of Erik Satie, the scorching heat of Astor Piazzolla or the endearing optimism of Louis Armstrong ...
The A3 ensemble willingly participates in the commissioning and creation of works by today's composers.

In this first "Paris Vintage" project, the frivolity of the flute, the roundness of the trombone and the flamboyant colors of the piano will plunge you into the carefree world of this French "Belle Epoque".